What is a Prepack?
A "Prepack" is traditionally a pre-determined bundle or set of products offered for sale as 1 combined package.
Prepacks in Brandboom allow you to offer a pre-bundled set of SIZES in various quantities.
E.g.
Prepack A: S x1, M x2, L x2, XL x1.
In this case the product's Size Chart is S, M, L, XL and the ratio is 1, 2, 2, 1.
Note: Unfortunately, it is not possible to bundle different Options or different Products together, but if you wish to do so, you can create a brand new Product to represent that combination.

Add a Prepack to a Product
1) Your product must have a size chart applied.
2) Via the Product Edit screen or via the SOS Edit table where you normally access the Size Chart function, click the "Edit Prepacks" button.

3) The Edit Prepacks panel will appear.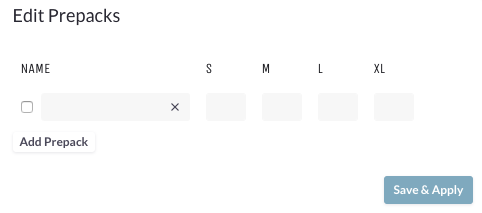 4) Type in a Name, enter the appropriate ratio values, and then click "Save & Apply" to finish or click "Add Prepack" to add another one.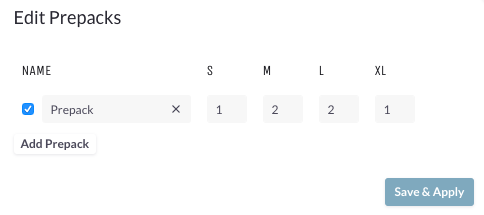 Note: You can add multiple Prepacks to each product. Any sizes that are not included in a Prepack will be available for open ordering and will not be constrained.
How a Prepack Appears on an Order Form
When a size is included in a Prepack, it cannot be freely ordered. The cell will be grayed out and the buyer will need to order in multiples of Prepacks.
If your products have Prepacks but you want to allow a buyer to order without using Prepacks, you can disable them in the Presentation Settings.