Do I have to sign up for Stripe to use Invoicing?
No, you can add on the Invoicing feature and collect payments however you like. But if you would like to collect payments online through Brandboom, you will need to set up a Stripe account if you don't already have one.
All Stripe transactions are subject to a 2.9%+ $0.30 fee.
Refunding through Brandboom can only be done with transactions processed through Stripe.
To learn about the invoicing feature, see this article.
Can I set up different Stripe Accounts for different showrooms?
Since each Brandboom account can only be associated with one Stripe account, you would need to set up additional Stripe account connections through additional Brandboom Accounts.
So for every showroom that needs an independent Stripe connection, a separate Brandboom Account (not login) is needed.
Buyer credit card being declined
If you are running a Buyer's credit card through Stripe and receive an error message that it has been declined, please do the following:
Double-check the credit card information entered to confirm that the correct card was used
Have the Buyer speak with the bank that issued the card to make sure there are no issues
In almost all cases, when a declined message appears, there is simply an issue with the card that the Buyer is not aware of.
For further assistance, please contact Support.
Can I generate an invoice for a specific amount, a partial deposit, or for partial units of an Order?
Invoice for a specific amount
Unfortunately at this time, since Invoices can only be generated from Order, any amount on an Invoice needs to come from a selection of Products from the original Order.
Request a deposit
Amounts cannot be entered independently from the Products on the Invoice. However, you can generate an Invoice in full and request a partial payment.
Partial Units
Invoicing on Brandboom only allows you to split an Order by Styles or full Products onto different invoices. At this time it is not possible to split partial units or different Options of the same Product onto different invoices.
Error Message: Expired API Key Provided - Stripe
When viewing a Failed payment on an Invoice, you may see the error message that says "Expired API Key provided: sk_live_******. Platform access may have been revoked."
This means that there was an error in the connection between Brandboom and Stripe.
You can either try running the payment again or going to your Settings page to re-connect your Stripe account.
Re-Connect Stripe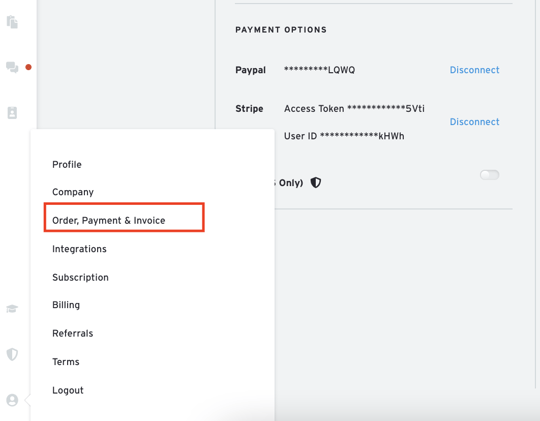 Navigate to your Order, Payment & Invoice page from the Account menu.
Click on the User ID to view your connected Stripe account and see if there are any issues.
If not, click on the 'Disconnect' to disconnect your Stripe account. Then click on the Setup Stripe button to log back in and "re-connect" to Stripe.