1) Click on the presentation you would like to create a PDF for.
2) When inside the Presentation Editor, click the PDF button in the top toolbar.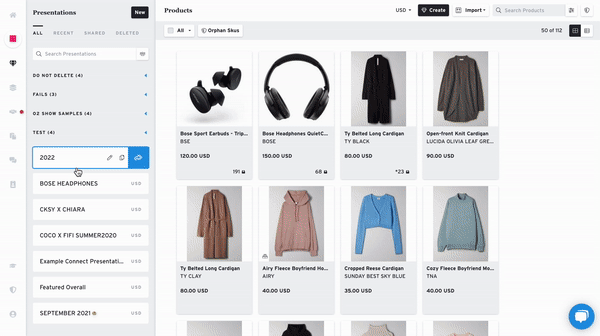 From here, adjust the settings to get your desired Line Sheet layout.
3) When you have the settings you want, click Download on the bottom right of the settings panel.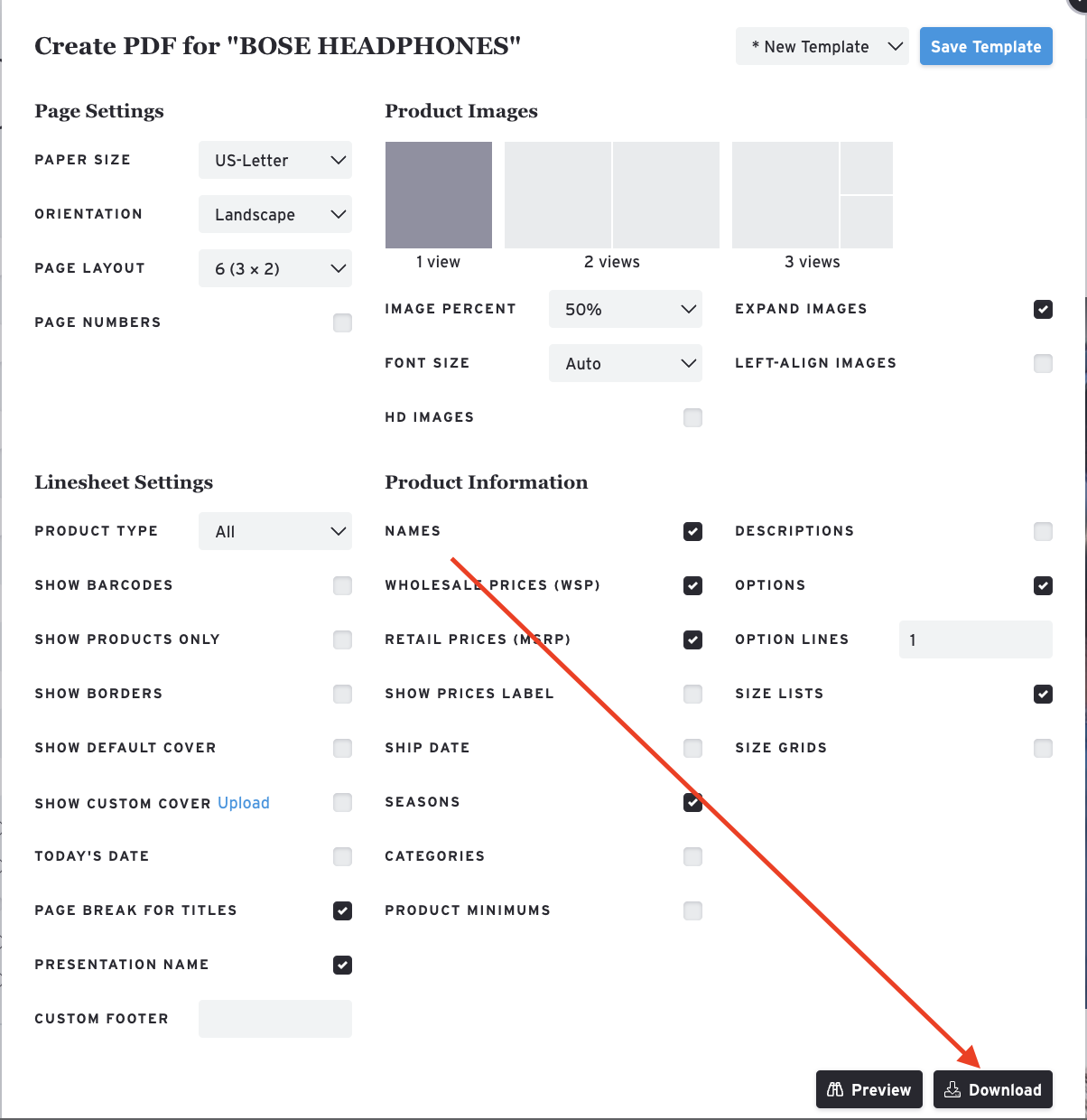 By default on most browsers, a new tab will open, displaying the newly created PDF file.
See Download Presentation PDF for instructions on how to download the resulting file from your browser.
PDF Presentation Settings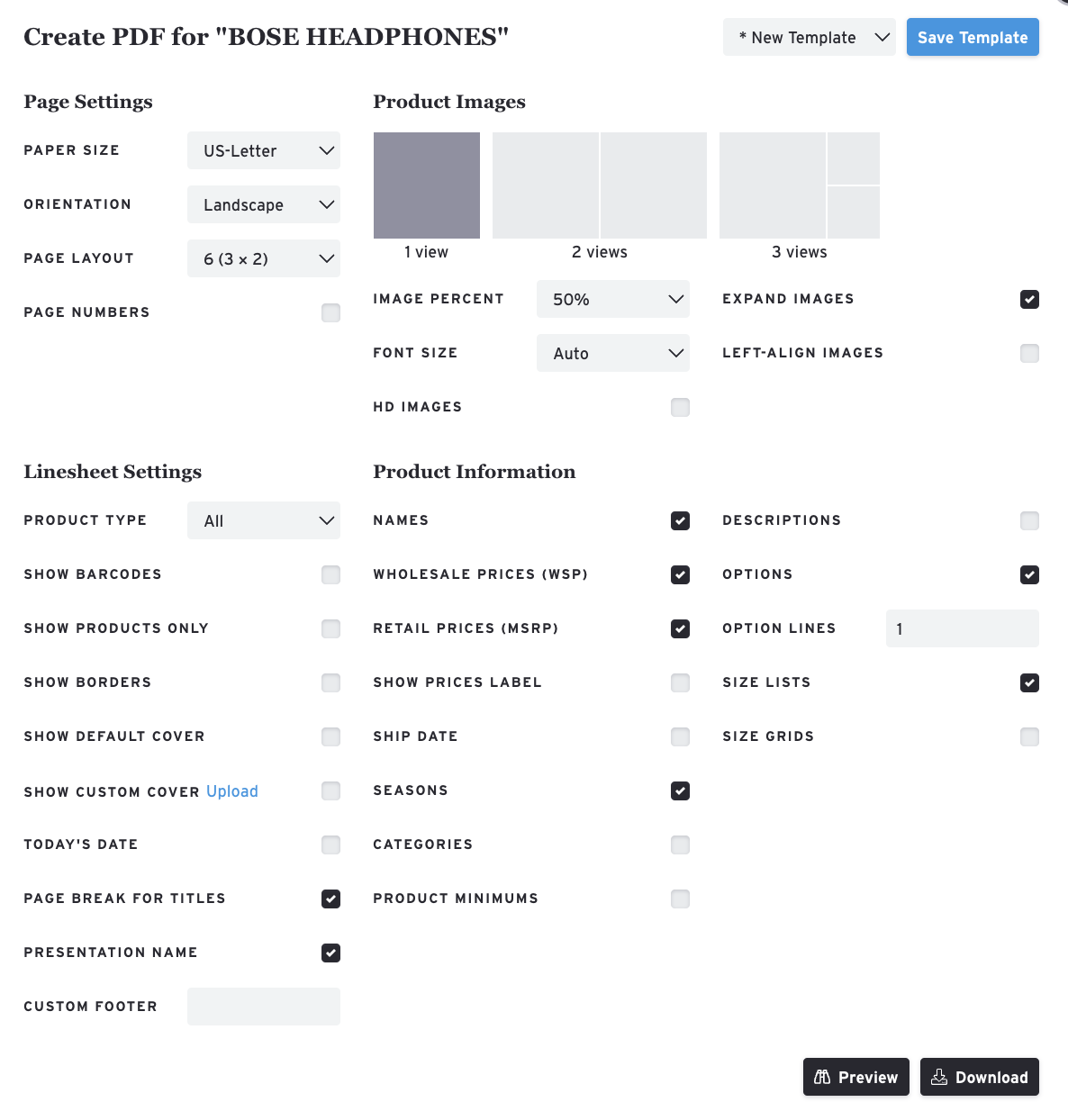 Page Settings
Paper Size - US-Letter, A4, US-Legal
Orientation - Landscape, Portrait
Page Layout - Number of product spaces to put on each page
E.g. 6 (3x2) = 6 products per page (3 across x 2 rows)
Page Numbers - Includes the page number in the lower right corner of each page
Linesheet Settings
Product Type - Choose which Products to filter for, based on the Type attribute
Show Barcodes
Show Products Only - Exclude all other elements besides products
Show Borders - Inserts a thin line between product spaces
Show Default Cover - Automatically adds a generated Cover Page which includes your Showroom's Cover Logo, optional Title, and optional Contacts
Show Custom Cover - Can upload a new cover page
Today's Date - Includes the date in Footer
Page Break for Titles - Every title will have its own page
Presentation Name - Automatically adds the presentation name
Show Title - Inserts text in the footer and Cover Page (if used)Default: [Showroom Name] - [Presentation Name]
Custom Footer - Adds a customize footer on every page
Product Images
Number of Views - Choose how many product images to display per product
Image Percent - Percentage of Product Space to be allotted for Product Image. The remainder is allotted for Product Info.
Expand Images - Expand or stretch Product Image to fill space if the original image is smaller
Font Size - Edit/Update size of the font
Left-Align Images - Automatically put all product images on the left side
HD Images - Overrides automatic image quality calculations to use the highest quality image
Product Information
Product Attributes to Show/Hide
Names
Wholesale Prices
Retail Prices
Show Prices Label
Ship Date
Seasons
Categories
Product Minimums
Descriptions
Options (e.g. Red, White, Black)
Option Lines - Rows to allot for Options values
Size Lists (e.g. S, M, L)
Size Grids - Sizes and Options are shown as a matrix
Blanks - displays blank cells for write-in quantities
Inventory - inserts Inventory count in each cell
SKU Prices - inserts Price in each cell
Product Inventory
To display your available inventory on a presentation PDF, first open your PDF Settings from within your Presentation.
For more info, please see Generate a PDF Line Sheet.
From there, check off the box next to "Size Grids" and select the "inventory" option: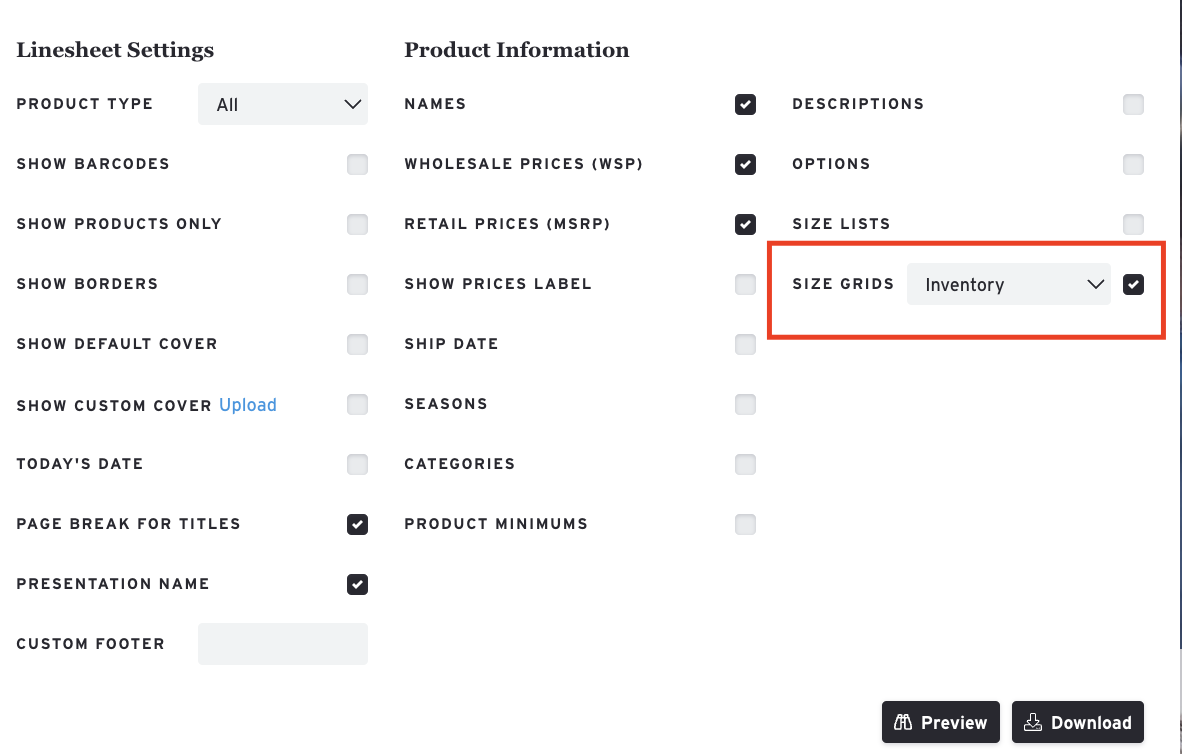 Available inventory values should now be displayed for each product on the PDF presentation.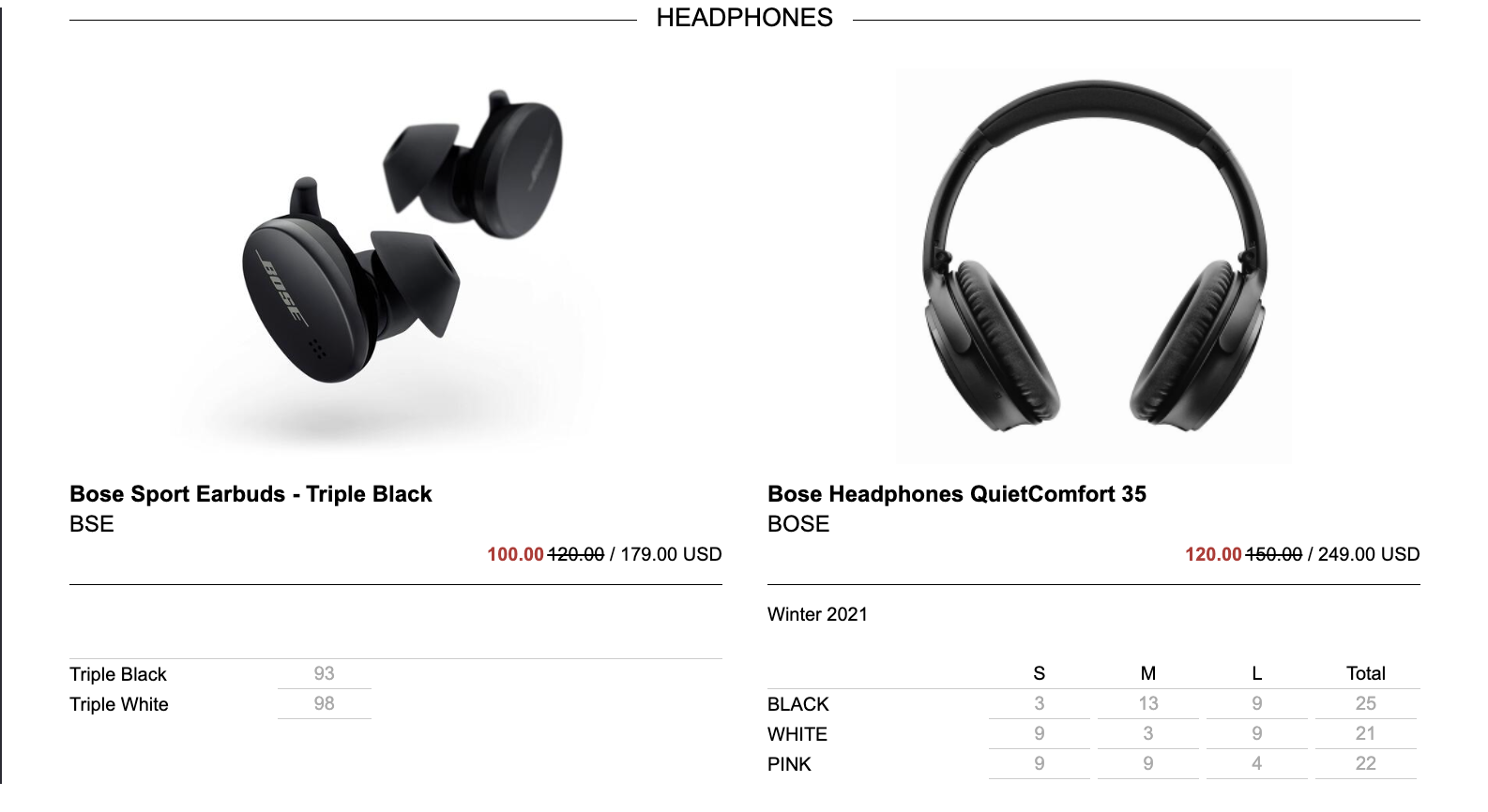 For more info check out these articles:
PDF Troubleshooting and Common Issues