A brief overview of our AI-based Marketplace to help you find new Buyers for your Products
Connect is one of the features that we are most excited about. Brandboom has been around for 10+ years, and in that time, we've worked with over 20 thousand brands and hundreds of thousands of retailers. We developed an AI to find you the best buyers that will be interested in your products.


To help put the right buyers in front of you, we ask you to input tradeshows that you are interested in. It doesn't have to be a tradeshow you are currently attending but just a tradeshow for the types of buyers you are interested in.


Once we have that information, we will generate a buyer list like this: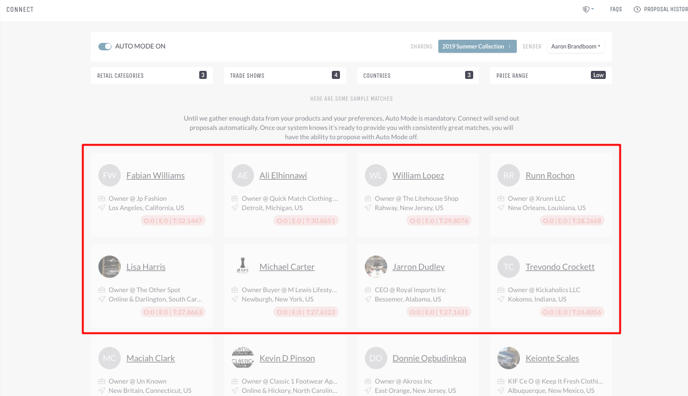 The list may be random at first, but once you start making selections and engaging with buyers, our AI will learn what buyers to suggest to you.


If you are new to Connect, you will be placed into Auto Connect mode. Auto Connect will start sending your presentation to buyers you selected in your trade show and product categories. Once buyers start interacting with your presentation, our AI will target and curate accurate buyer recommendations and only present to those buyers, creating a tailored and better experience for both sellers and buyers.


Depending on the interactions you have, you should be able to switch Auto Connect mode off after 2-4 weeks and propose manually. However, we recommend you leave Auto Connect on, because why wouldn't you want us working for you 24/7 to find the best connections possible?


If you do want to use Connect manually, you need to switch the Auto Connect mode off here: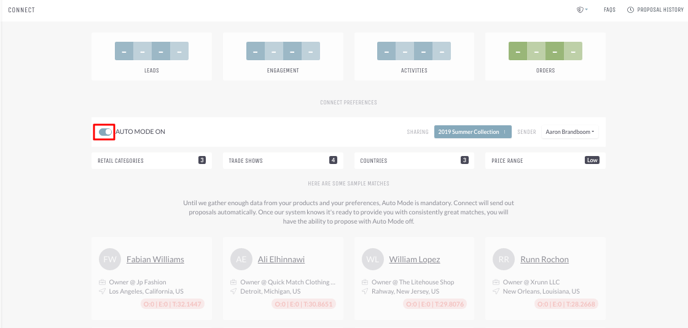 You can now click into each buyer profile and see if they are a good fit, or you can select all buyers and see who ends up engaging with you. From the buyers that are engaging and opening up your line sheet, our AI will start to generate similar buyers to those who are interested in your product.