A brief overview of our AI-based Marketplace to help you find new Buyers for your Products
Connect Marketplace is one of the features that we are most excited about. Brandboom has been around for 10+ years, and in that time, we've worked with more than twenty thousand brands and hundreds of thousands of retailers. We developed an AI that identifies the best buyers that will be interested in your products.

To help put the right buyers in front of you, we ask you to select categories and tradeshows that fit your profile. It doesn't have to be a tradeshow you are currently attending, but some you might like to attend or interest you.

Once we have that information, we will generate a buyer list like this: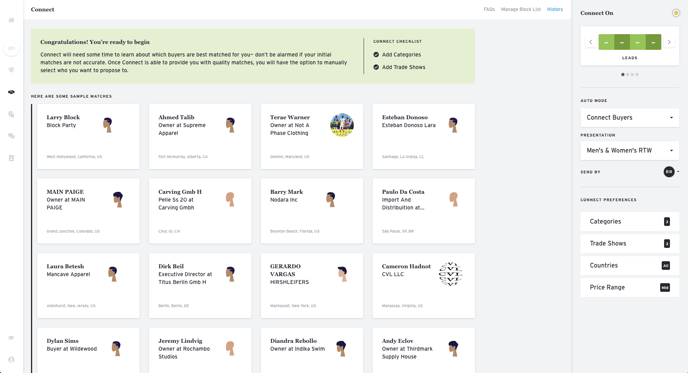 The list may be slightly random at first, but once buyers start engaging with your presentation, our AI will learn what buyers to suggest to you.

Connect Marketplace is a new way to market your brand and products to buyers. Brandboom will provide continuous marketing services to buyers based on your product categories, trade show preferences, and interactions with your profile. Our AI can help you find new buyers and manage your existing accounts by working for you 24/7 and targetting them at the right time. This curated and tailored marketing provides a better experience for both sellers and buyers.

For more information on how to set it up, please visit our Connect Marketplace Support section.
Please Note: Some elements of this article video may or may not be obsolete as of May 7th, 2021. We will update these as soon as possible. For any questions, please chat to Support or contact your Account Manager.