Connect Marketplace is an AI-driven marketing tool that provides buyers with targeted visibility of your brand. It allows you to reach and target new and existing Buyers in the system with a line sheet presentation of your products and brand.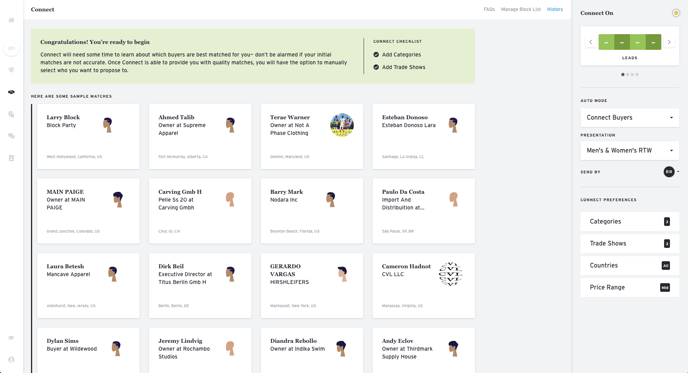 Getting Started
You will need to prepare a line sheet presentation as your marketing asset. We have a very helpful article on what to include in your presentation, including tips and tricks, as well as guidelines and requirements for approval to participate in the marketplace.
How do we Market you?
Brandboom's AI-Engine searches for relevant matches based on the following:
Your existing activity with Buyers in Brandboom (Orders collected, Presentations viewed, etc.)
Personal Preferences/Filters: Trade Shows, Retail Categories, Countries
Connect Marketplace activity (who views your presentations, who skips, which products are viewed, clicked, and ordered, etc...)
We then provide marketing services via trusted periodic digests and dashboard suggestions and recommendations to these buyers. The AI is constantly working to provide you with the best possibilities of gaining an order. Buyers trust our recommendations and are continually working with Brandboom to discover the latest and greatest products.
Think of us as a marketing or sales service that is continuously working with buyers. We are actively approaching them on your behalf instead of allowing them to search for you in an open marketplace/forum. This provides you with more security and exclusivity.
What are the fees for using Connect?
There is no cost to be part of it. We are providing marketing services at no initial charge. Once a buyer places an order with you, we charge a flat-rate marketing fee (Connect Fee). Because of the nature of wholesale orders, we don't charge a traditional commission. We also see it as unfair to charge a commission because we are simply providing a connection rather than creating, manufacturing, or providing logistics for these orders.
New Buyers
You will be charged a Connect Fee for New Buyers that place an initial purchase order with you via Connect Marketplace.
Existing Buyers
You will be charged a discounted Connect Fee for Existing Buyers that place a purchase order with you via Connect Marketplace. We will only target existing Buyers based on your Connect Mode settings.
The fee structure applies to orders processed via Connect Marketplace only. Any orders captured outside Connect will not incur Connect Fees. For current fees and pricing, please visit our Pricing page.
Subscription Fees
Again, there is no fee to participate, only the Connect Fees above. Startup or Business plan users will receive additional benefits such as more products, customizations, reports, the ability to set mandatory deposit fees, and more.
What are the different Connect Modes?
If you would like to use Connect, the following are the options available in Auto Mode. Auto Mode works 24/7/365 to market to buyers. You can quickly and easily set and forget, based on your preferences. The three options available are:
Connect Buyers - We will automatically market to both new buyers you have never worked with before as well as existing buyers that were previously introduced to you via Connect Marketplace only.
My Buyers - Auto Mode can market to buyers you have previously worked with outside of Connect Marketplace. For example, if a buyer placed an order directly with you via a share link or manual order at a trade show, we can now manage them for you automatically.
All Buyers - Auto Mode will market to both Connect Buyers and My Buyers (per above). You can set and forget and watch those orders come in automatically.
Manual Mode
This mode is available to eligible users only. It allows you to be much more selective as to who your presentation may be sent to. Whilst you have total control, this mode is not recommended as it could utilize a significant amount of your time to sort and work through the daily Buyer list.
Ways to improve your success
If you'd like to improve your recommendations and success, we suggest doing the following:
Continue interacting with existing Buyers on the platform via Presentations and Orders
Refine your Category and Trade Shows preferences, selecting ones that are more likely to deliver you more accurate matches
Improve the quality of your presentations so that Buyers are more likely to view them and place Orders
What happens once a Buyer places an Order?
Hooray! You have a new order and a potential new contact for you to work with in the future. This initial purchase order is a guideline for you and the buyer to work with. You can now contact them and finalize details as we know you may have availability or payment preferences. You can use Brandboom to invoice the buyer, or you can use your own tools. We'll also leave it to you as to how you are going to fulfill this order.
Who are these Buyers?
Connect Marketplace has trusted and verified Buyers that have used the Brandboom platform to transact with our brands and sellers. New Buyers are required to submit information to our Brandboom Buyer Team for verification before they receive access to Connect Marketplace. Brandboom has hundreds of thousands of buyers from physical and online boutiques, major retailers, and corporate buying and merchandising teams using our platform every day.
Other Resources:
Here is a list of other resources that could help you.
Auto Mode - how to use Auto Mode
Manual Mode - how to use Manual Mode
Proposal History - how to view proposals sent, as well as recalling proposals
Block List - we know there are some Buyers you don't want to contact, so we have a Block List of users you can nominate