Connect allows you to reach new Buyers in the system, recommending you matches based on your interactions on the platform and Trade Show preferences.
How are Matches generated?
Brandboom's Recommendation Engine searches for your matches based on the following:
Your existing activity with Buyers in Brandboom (Orders collected, Presentations viewed, etc.)
Personal Preferences/Filters: Trade Shows, Retail Categories, Countries
Connect proposal activity (who you propose to, who you skip, which products are viewed and ordered, etc.)
Ways to improve your Recommendations
If you'd like to improve your Recommendations, we suggest doing the following:
Continue interacting with your existing Buyers on the platform via Presentations and Orders
Refine your Trade Shows preferences and pick ones that are more likely to deliver you better matches
Improve the quality of your presentations so that Buyers are more likely to view them and place Orders
Avoid spamming or mass-sending proposals to Buyers
What are the fees for using Connect?
Connect Fee for Connections
You only get charged when a Buyer places their first Order with you. At that point, a Connection has been made and you will receive their Order with their contact information included.
No fees for future orders
If the Buyer orders from you again, you will not be charged another fee because you've already established the connection and paid for it.
No fees for orders not collected through Connect
If you don't use Connect to collect your order on Brandboom, there's no fee.
No subscription required
Since Connect is a special service, Connect fees are separate from the normal Brandboom subscription fees. You can use Connect with a Free account and only pay for Connection fees when a Buyer places an Order.
If you upgrade to a paid Brandboom subscription, you get more access to all of our platform's features (more Products, line sheet customizations, more Share Links, Order collecting, Reports, etc.)
Auto-Connect
Auto-Connect is turned on when you first get started. It will automatically do its best to:
Identify best buyer Matches
Explore additional, potential Matches
Improve its predictive capabilities
Send proposals on your behalf without needing your manual input
Letting Auto-Connect run is the fastest way to allow the Recommendation Engine to improve and to reach a Match quality threshold that will enable you to propose manually.
Turn Off Auto-Connect
If you prefer not to allow Auto-Connect to run and propose for you, you can turn off the switch to disable the automatic function.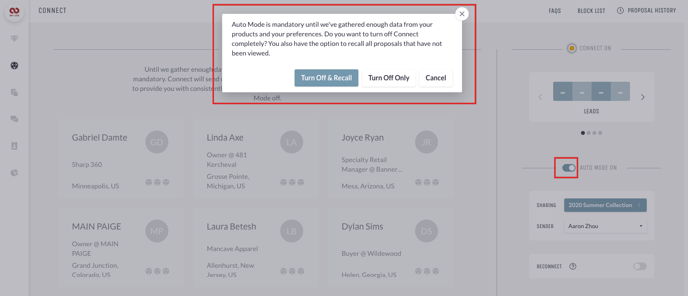 This may be ideal if you have specific criteria for which Buyers you would like to reach and would like to prevent undesired Orders.
Please note, however, that:
Proposals will not be sent for you (volume of proposals and therefore number of orders may suffer significantly)
The Recommendation Engine will not improve as quickly
If you do not have enough Connect activity, you will not be able to propose manually
Manually Proposing
Requirement
Remember that you will not have the ability to propose manually until you've generated sufficient Connect activity and reached a threshold of Match quality.
If you have not met this requirement, we recommend enabling Auto-Connect for some time in order to unlock this function.
Basic Actions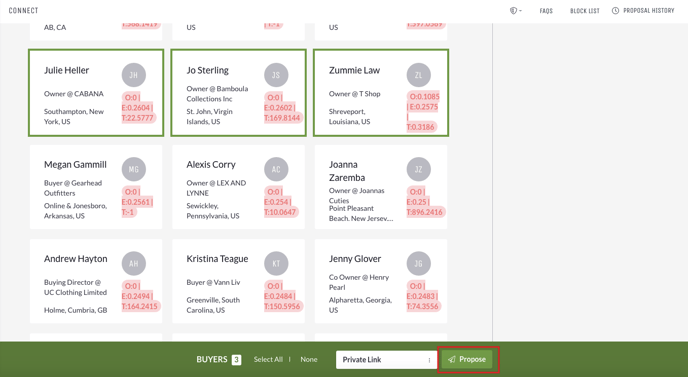 On the Connect page, you will see a list of up to several hundred Recommendations for you to take action on. If you Propose or Skip, they will be replaced with a new one the next day, if a new recommendation is available. Otherwise, they will remain in your list.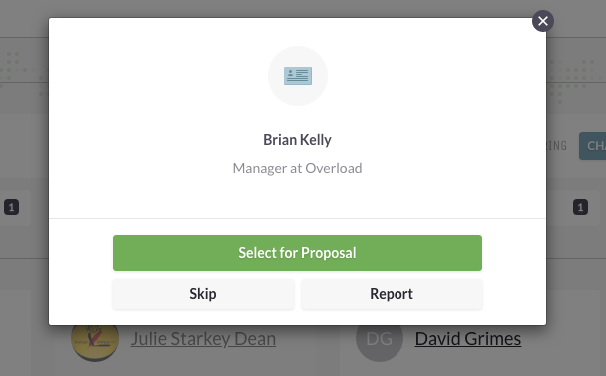 Propose - Send buyer a proposal presentation
Skip - Let the Recommendation Engine know if the Buyer is "Already a Customer" or "Not a Good Match"
Propose
If you choose to Propose to a buyer, you will be asked to choose a presentation from your showroom to send to them.
Since this is your first contact with the buyer, we recommend building specific presentations that help you introduce your brand.
The proposal will be seen as "[Showroom Name] | [Presentation Name]" on the Buyer side.
Recall a Proposal

If you've made a mistake or changed your mind about sending a proposal, you can recall it after it's been sent to prevent the Buyer from accessing it further.
See Recall a Proposal for more info.
Proposal History

Track Connect activity to see which Buyers have viewed your Proposals and take additional actions if needed.
Block List
If there are buyers that you don't want Connect to reach out to, you can remove them via our Block List feature.
Buyer Receives Proposal
The buyer will see your proposal in 2 ways: in an email notification and as an entry in their Proposals List in their Buyer page.
Sometimes the Buyer may be interested in seeing your products but not necessarily ready to place an order. Once you've made the connection, you can reach out to the Buyer to follow up!