What is it?
Reconnect is an additional feature you can use while you're on Brandboom Connect. ReConnect will send your Proposal presentation to your existing customers.

Existing customers are your customers who have had either Non-Connect or Connect orders with you from before. This is a tool for sellers who are interested in an effective and fast solution to reaching out to all their customers at once.
Turning It On
ReConnect can only be toggled on if Auto Connect is turned on as well. It will be below your Auto Mode section with a simple toggle button.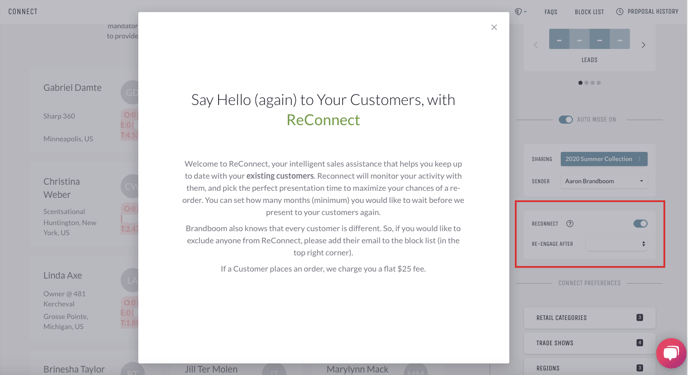 You will also be able to instruct ReConnect how far back to reach.
For example, if you select 2 months then Reconnect will start proposing to buyers that ordered from you up to 2 months ago.
Fees
The latest fee schedules are listed at https://www.brandboom.com/pricing
Block List
If there are any customers you would like to opt-out of receiving Connect/ReConnect proposals, please add them to your Block List.