flowPAY (for buyers) - Receive a credit line and Net 60 terms through flowfy. As with any offer of credit, we will need to request information from you for assessment. Some of the criteria includes:
You have a legal business, registered as a US business entity
You have a business that has established financing or trade credit account(s) that show a positive credit history
You have a business that has been operating for longer than one year (12 months)
Credit is assessed on multiple criteria and each case is different. For the beta period (Q2/Q3 - 2021), the best way to receive access as a buyer is to purchase from brands/sellers that you already work with that use Brandboom.
To apply for flowPAY:
1. On your Brandboom buyer account, you should be able to see a banner once you click any of your orders. Click "Apply Now".
2. Click "Register" and you will be redirected to flowfy's website.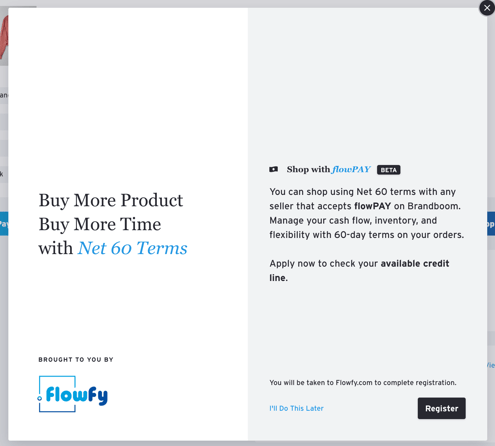 3. Fill in all the necessary information and submit.
Your application is now being reviewed by our team. It takes about 1-5 business days to review your application and you will receive an email confirmation once your application has been approved.