Shopify is available to:
Free Users - Product import only
Startup/Business Plan Users - Product import and inventory live sync
Connect to Shopify via Brandboom
1. Log in to your Brandboom account.
2. You can create a new showroom or use an existing showroom to sync with your Shopify account.
NOTE: We recommend creating a new showroom so you can avoid any duplicates and errors.
3. Click on the 'Import' button and click "From Shopify"

4. Enter your Shopify Name and choose which showroom your want to connect it to.
Example: If amazingclothing.myshopify.com is your Shopify URL, then your Shopify name is amazingclothing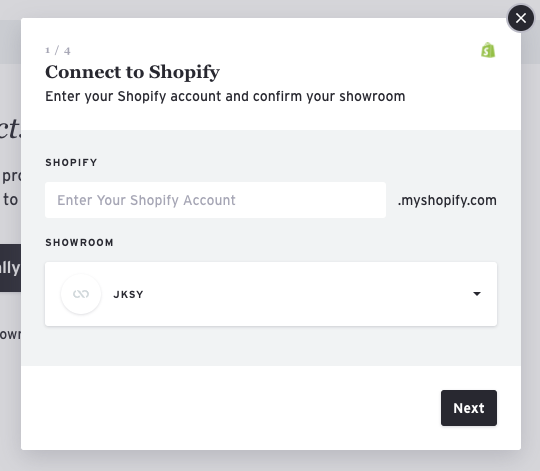 5. Once you hit 'Next', you will be redirected to Shopify's website. Log in to your Shopify account if you haven't yet, you'll be asked to install the Brandboom B2B Wholesale App. Click 'Install App' to integrate with Shopify.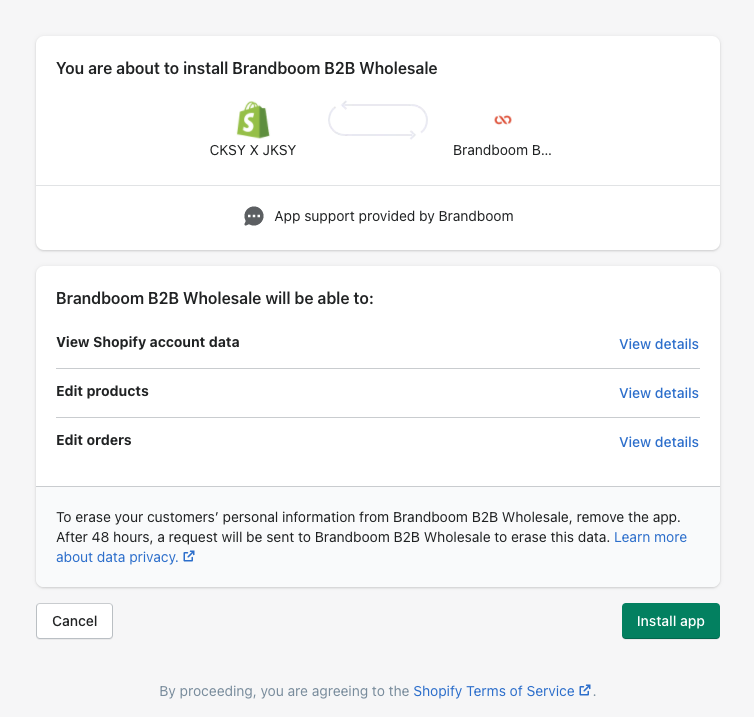 6. On Brandboom's website, you'll have to map the fields to match your settings and preferences. Hit 'Next' to move on to the next step.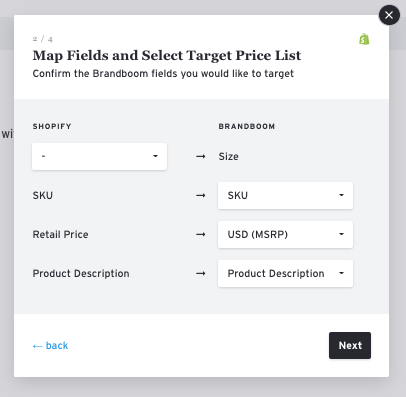 Note: "Do Not Import" means that you do not want to import that information from Shopify to Brandboom. This also means that you may edit the data in Brandboom.
7. Inventory sync is currently available to startup and business plan users only. Click on 'Next' if you do not need the inventory sync feature.

7.1 Click "Upgrade to use this feature" if you want to use Shopify inventory sync. This will lead you to your subscription page. Please read this article here on how to add inventory sync to your account.
7.2 If you have already paid for the inventory sync feature, you can just enable the 'inventory sync' button.
NOTE: Warehouse Source dropdown will only appear if your Shopify shop has multiple warehouse locations. You can only have one warehouse location for every showroom.
Changing your Shopify warehouse location after it has been set will change the inventory levels for all existing products, presentations, and orders.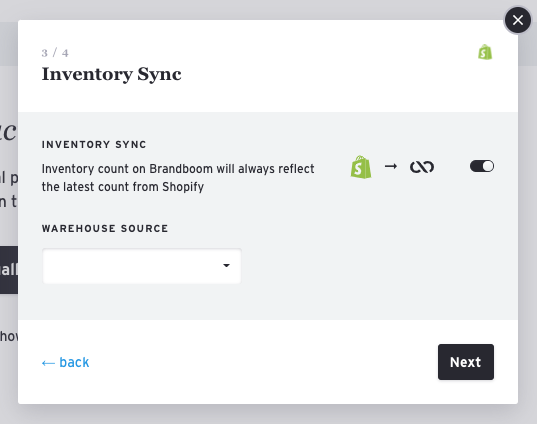 8. To import products efficiently, you'll have to put your products into a "Collection" on Shopify. You can also choose to import all products if you like but that may take time if you have a number of active products.
Merge existing products - this will only add/replace products that have already been created on Brandboom. Any other products will not import. You will have to uncheck "Merge with existing products".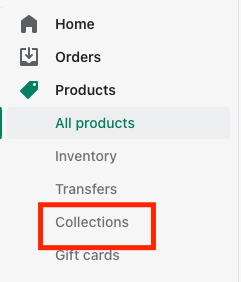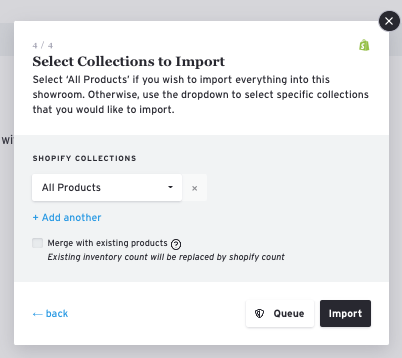 9. Click 'Import'. The Shopify icon on the bottom of the product tile means that the product was imported from Shopify. Import wait time will depend on how many products you are importing.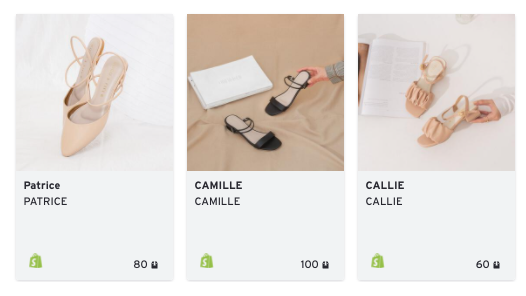 Connect to Shopify via Shopify App
If you are unable to connect Brandboom to Shopify using the above method, you can also install it directly from Shopify using the steps below.
1. Log in to your Shopify account.
2. Download the 'Brandboom B2B Wholesale' app from the Shopify store or open up this link to install it.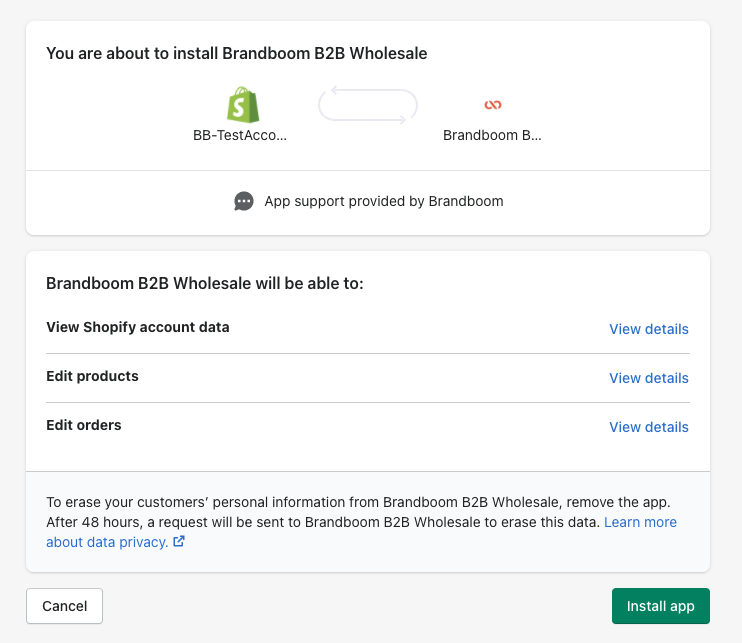 3. Once you've installed the app, click 'Connect' to connect your Brandboom account.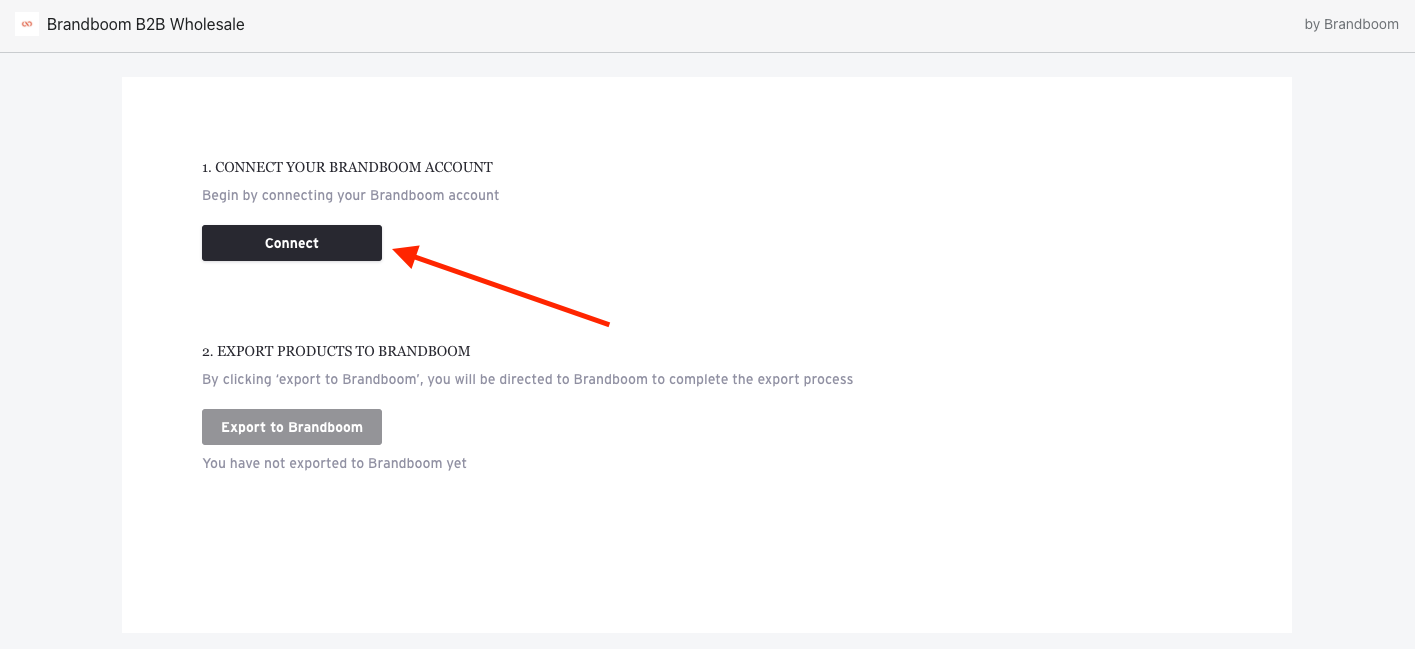 4. You will be redirected to your Brandboom account. Please select a showroom to integrate with the Shopify account.

5. Follow steps 6-8 from above.
You may also contact Brandboom Support or your Account Manager directly if you have further questions.