When you apply a Tag to your Presentation, any Orders placed from the Presentation will carry the Presentation Tag and display it as an Order Tag.
This allows you to track back from the Order and see which Presentation it was started from.
Note: Applying a Presentation Tag will not retroactively apply the Tag to Orders already placed.
Create a new Presentation Tag

In the Presentation Editor, click the Tag icon to open the Tags menu. Click 'Edit Tags' to open the Tag Manager.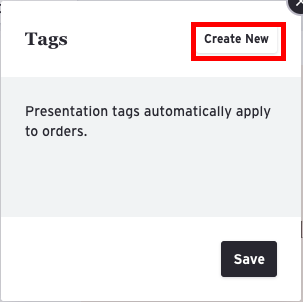 From the Tag Manager click 'Create New' and name your new Tag. You also have the option to add it a Tag Group.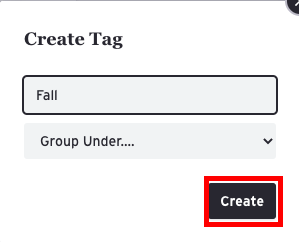 Click 'Create' to finish.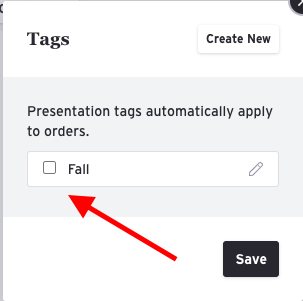 Once the new Tag has been created, it will be added to your list to select.
Apply a Presentation Tag
From the Tag Manager, check the box for the tags you want to apply and click Save.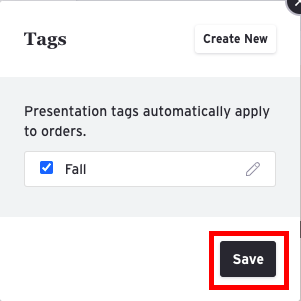 The Tag will now be applied and you will see a number on the Tag icon that represents how many total Tags have been applied.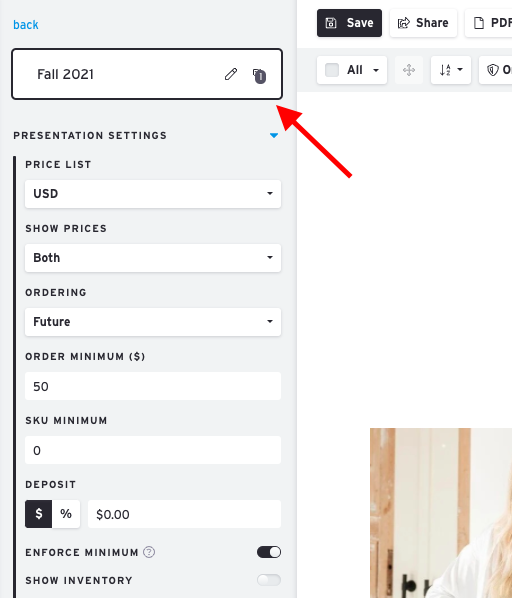 Now, whenever a Buyer writes an Order through this presentation, the Order will automatically carry the Presentation Tag onto the Order as an Order Tag. Tags will only be visible on the Seller side.
Presentation Tag to Order Tag
See Order Tags for more information on how these Presentation Tags convert to Order Tags for easier Order management.