Difference between Master and Sub-showroom
A Showroom is a space in Brandboom that contains its own:
Products
Presentations
Orders
Owner, Invited Users
Settings/Logos
Master Showrooms are the default type of showroom when you create new showrooms. They are completely independent from each other.
Sub-showrooms are created "under" Master Showrooms. They exist mostly independently except that they offer you the ability to pass product and presentation information IN from a Master Showroom. That's it. Activity in a Sub-showroom is not necessarily visible to the Master Showroom and never visible to another Sub-showroom.
Note: Orders placed within a Sub-Showroom can only be viewed within that Sub-Showroom. They will not be visible from the Master Showroom. Additionally, Order Reports generated in the Master Showroom will not pull data from Sub-Showrooms.
Sub-showroom Product Count
Important: When creating a Sub-Showroom with products from a Master Showroom, the products in the Sub-Showroom will count as separate products. For example, if your Master Showroom has 10 products and you create a new Sub-Showroom, the 10 products that are created in the Sub-Showroom by default will be added to the first 10 and your total number of Active Products will be 20.
How a Sub-showroom appears in your Showrooms Panel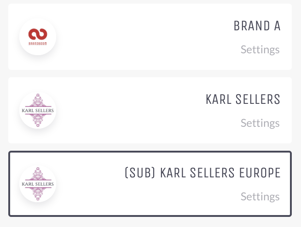 Why create a Sub-showroom?
There may be times when you want to create a variation of an existing Showroom without having to build a brand new Master Showroom. Sub-Showrooms allow you to do just that. Sub-Showrooms are nested under their Master Showroom. You can control what aspects of the Master Showroom's product information and Presentations you would like in the Sub-Showrooms.
Uses for Sub-Showrooms
Restrict access to specific Pricing
For example, let's imagine you sell in the US and in the UK and you don't want Sales Agents from one region seeing Pricing for the other region.
You can set up your Master Showroom for your US region and a Sub-Showroom for the UK region. When you invite Sales Agents into their appropriate Showrooms, they'll only be able to access what is shown in their Showroom and not the other.
Restrict access to specific Products
If you have some products you don't want to make visible to all users, you can use a Sub-Showroom to limit what can be seen.
Let's imagine you have some styles that you want to sell in an international market but not domestically. You can set up a Sub-Showroom specifically for your domestic viewers and control which Products from the Master Showroom appear inside it.
Before, creating a Sub-Showroom, please read this article to understand how Main Showrooms work and their specific limitations.
*Please keep in mind that product edits WILL be shared between Main Showrooms and Sub-Showrooms, for example if you change the name of a product in the Main Showroom, it will also change that same product in the Sub-Showroom and vice versa.
Create a Sub-Showroom
Click the Showroom icon in the left-hand panel to open the Showrooms Menu and click "Add Showroom."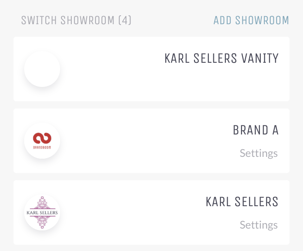 3) A window will pop up displaying your options. Select which Master Showroom you want to create the Sub-Showroom under by clicking the "Sub Showroom Under" and selecting your Master Showroom in the drop-down menu.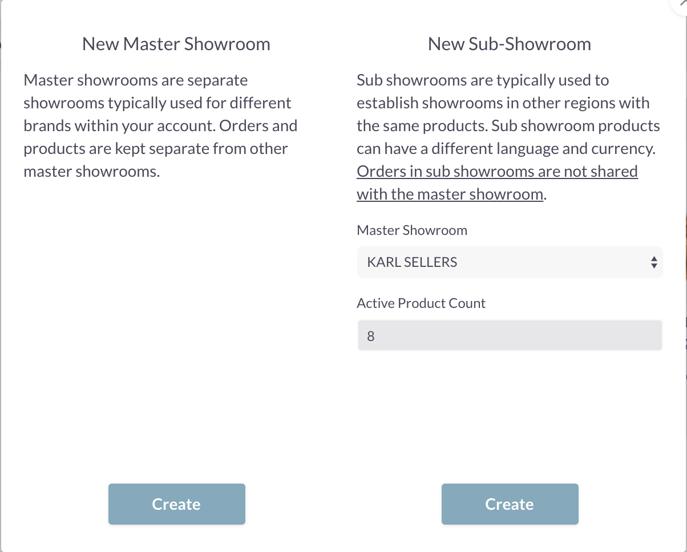 4) Click "Create" to finish
5) In the next window, enter the new Sub-Showroom's name and configure basic settings.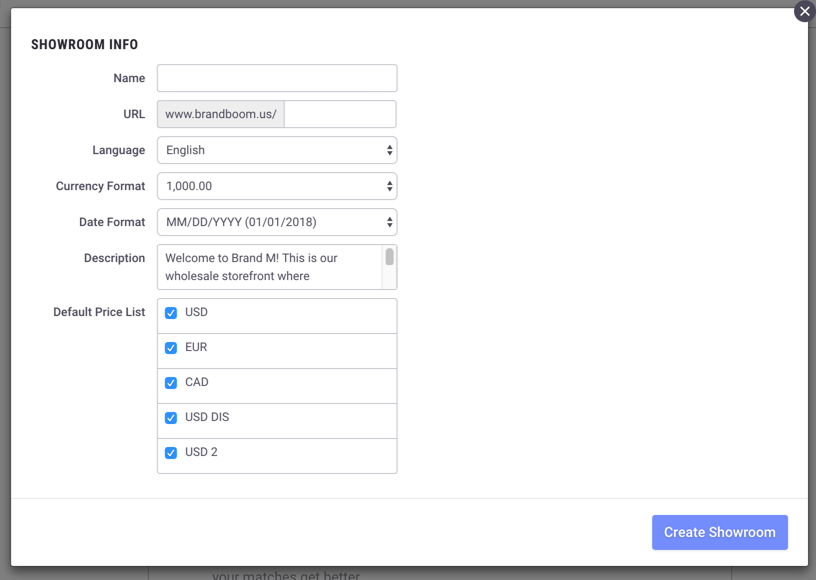 After clicking "Create Showroom" you will be able to access the remaining Showroom Settings.