Auto Mode is the default and best mode to use for the Connect Marketplace. Auto Mode maximizes your chances of getting orders by working 24/7/365 to understand buyer behavior and marketing to them at the best times possible. Save hours of time in your day by having our AI do all the work for you!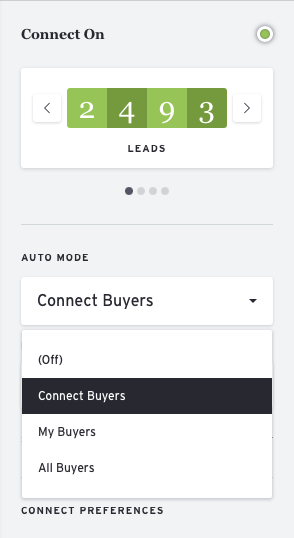 Auto Mode targeting options:
Connect Buyers - Our AI will automatically market to new buyers you haven't worked with before on the Connect Marketplace. We will target these buyers with the aim of creating a warm introduction to these buyers, and obtaining you a first order.
In addition, any buyers that you were previously introduced to on Connect will be targeted as well. We're focused on getting you orders so you can make more money, and targeting these existing buyers using all our data and knowledge is the perfect way to achieve that.
My Buyers - Some brands and sellers aren't looking to take on any new buyers, we understand that. However, we also understand that you may be looking for assistance with managing your existing customers. Therefore, this option is available to help you target buyers that have previously placed orders with you before on the Brandboom platform via your traditional Share Link/iPad/Online order methods.
All Buyers - If you are finding that managing your time is becoming a challenge, or you need help with some of your sales strategy, Brandboom can handle it all for you. We can propose to all buyers on Connect, as well as your previous buyers, leaving you to get back to creating and designing.